These tutorials are written to be as complete as possible only for the techniques they involve. That is, all the necessary steps to take are listed and detailed. If you require additional information, you're liable to find it in your paint program's manual or online Help, so please check there for answers as I cannot always use explicit terms for every program.

This series of tutorials begins with a rendering of a 3D model, but you could also begin with a photographed model.

Glamour Postwork focuses on the face, skin, clothing and jewelry.
Glamour Hair Painting focuses on painting the hair.
Glamour Background focuses on the background and finishing tips.

The three tutorials are intended to be followed in order, but of course you can pick and choose from the tips and techniques to fit your own needs. Results from each tutorial are shown below.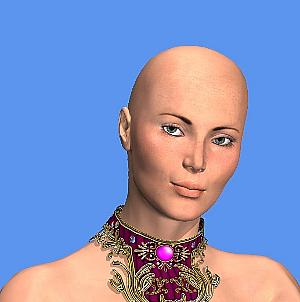 Beginning 3D render